Originally published in the Fort Worth Business Press, October 14, 2017
The Bilsky family has found a winning recipe – several in fact – not just for the food they prepare for Scratch Catering & Fine Foods but for success in business as well.
At least that's how the story went for Ted, Judy and Colby Bilsky, a family of lifelong entrepreneurs.
The Bilsky family had its own general contracting business for 20 years until the opportunity came for Ted, 50, to leave his contracting job and Colby, 24, to walk away from corporate, guaranteed-salary opportunities after college to go into a field in which neither of them had professional experience — the culinary industry.
Cooking and eating together was nothing new for them, however, both having grown up with far more homemade, "from scratch" dinners than take-out or microwave concoctions. In 2015, following their home-cooking roots, the family opened Scratch Catering & Fine Foods in Southlake.
A FAMILY AFFAIR
Cooking has always been a family affair for the Bilskys. Seeing food as an important aspect of the family began with Ted's Italian grandparents, Mary and Carlo Rizzotto, who were always cooking at home — pasta, meatballs, chicken, sausage, pasta gravy sauce and more.
His mother, Carolyn, continued the practice. Microwaves weren't popular until Ted was in high school, so his mother was sure to have a hot meal on the table every night while he was growing up.
Now, thanks to a risk that Ted and his family took, the Bilskys not only continue their passion for cooking and family meals, but they get to share that with others through catering.
Colby went to Texas A&M University and completed several corporate internships, during which he realized that working 8-to-5 "wasn't really the challenge in life I was looking for."
Colby said when he pitched the idea to his father about moving into the culinary business, it took some convincing to get him fully on board. But the ability to work with family and build on their family cooking history eventually brought Scratch Catering & Fine Foods to fruition.
"We have always loved to cook and he said, 'Hey, let's try the catering avenue. Help me get it started and then go back to being a contractor,'" Ted said. "Well, two years later [I'm] still loving being a restaurateur."
Family-owned and -operated, everyone is involved in the business now except Ted and Judy's son Chandler, 19, who is still attending A&M. Ted heads the Southlake Scratch Catering operations. Judy, 52, handles the bakery and, with the company's new two-year contract with The Woman's Club of Fort Worth, Colby runs the Fort Worth Scratch Catering operations.
There's always going to be the ups and the downs when it comes to working with family, Colby says. "But [I] get to be a college graduate that outside of college gets to start their own business and not go into it on [my] own."
His father's "a great mentor, he's had businesses in the past and he's definitely given me great direction," Colby said. "With building it from step one to whatever the last step is, it's always been him involving me and making sure that I know how things go in case we do split off one day and do our own things."
THE WOMAN'S CLUB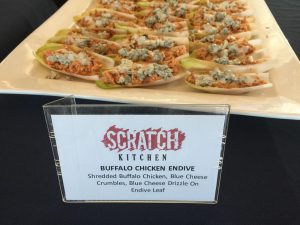 The Woman's Club of Fort Worth sits at 1316 Pennsylvania Ave. and includes over 1,300 members and 50 clubs and departments. Scratch Catering will be the exclusive on-site caterer for all the club's events and functions.
Ted says the contract with The Woman's Club came through networking and word-of-mouth.
Scratch Catering worked a smaller event for The Woman's Club in February and club representatives were so impressed they put the company on the bid list for the catering operations in June. Scratch Catering was awarded the contract in July and began working at the club on Sept. 1.
Colby heads the team at The Woman's Club and says he enjoys his catering work because of the diverse menu he's allowed to serve.
"Here at The Woman's Club we have the tearoom that we serve lunch every day and we try to do something different, something unique," he said. "Our team back there, we're always creating something new and fresh."
He added that being in Fort Worth and leading a team also helped him step out from the sidelines.
"Now that I'm here in Fort Worth, I've kind of gotten outside of my father's umbrella," Colby said. "In Southlake it was very much focused on [one thing] and now I'm making our own name for ourselves here in Fort Worth.
CONTINUING TO GROW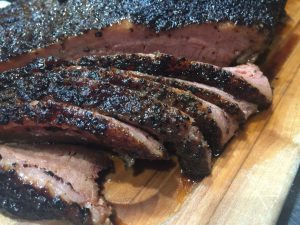 In a typical week, Scratch Catering works 15-20 events and growth continues organically for the company. As they receive more orders they continue to expand their reach. Now in two cities, Scratch Catering is looking for a third location in Northeast Tarrant County. And there are some opportunities for Scratch Catering to have a booth in one of the food halls coming to Fort Worth.
"But we don't want to grow too fast," Ted said. "When people call they talk to me or Colby. We want to be very cautious and keep the quality of food up and keep the quality of personal service up and that personal family touch."
Though everyone comes together to work large events such as Southlake's recent Oktoberfest, different teams operate under each chef. Ted and Judy have three people in Southlake, and Colby has five in Fort Worth.
The baking side hasn't been expanded yet and it continues to operate under Judy at the Scratch Catering headquarters in Southlake. However, the company hopes to have bakery operations in Fort Worth as well.
Ted says that although it can be trying at times to work with family, "At the end of the day, I couldn't have asked for a better dynamic to be able to work with my son on a daily basis."
Still, these chefs have different styles and culinary visions and goals.
Ted's favorite item to cook is brisket and he sees himself someday splintering off to open a restaurant.
The yin to his father's yang, Colby sees a future for himself in catering and his passion in the kitchen revolves around creating new, fresh and healthful dishes. His favorite things to prepare include salmon, kale dishes and salads. Colby says he enjoys creating different power-foods.
"Briskets are always great, but I like a more clean cooking," he said.
Along with what's cooking, Ted says the Scratch Catering business model changes every six months, adapting as needs arise.
"A year ago we would have never said our goal is to be inside The Woman's Club of Fort Worth," Ted said. "This is where we're going to meet the fork in the road. My ultimate goal is to have a high-end barbecue and steakhouse. Colby wants no part of the restaurant business; he enjoys catering."
If you've ever been to an event catered by Scratch, you've probably seen Ted in his pink-and-green chef's coat. According to Ted, his flamboyant coat is "the demise" of Judy and Colby.
But, he said, "People don't remember the name Scratch Kitchen, they don't remember Ted Bilsky, they don't remember the food we're serving, but they remember us because of the jacket."
"They relate jacket, great food, great service," Ted said. "It's become almost a trademark, it's become my calling card."
FOOD AND INNOVATION
The family-owned business says its customers "rave" about three items in particular; the stuffed mushrooms; the barbecue brisket bites, which are smoked brisket in a crescent roll with cream cheese and jalapenos; and Judy's "Red Velvet Surprise," which is a red velvet cupcake with a double-Oreo and peanut butter center topped with a cream cheese frosting.
"We have no formal culinary training within our family," Ted said. "We [just] love to cook, and I credit Colby with a lot of our innovations on the recipes. He's our millennial, he likes to keep it healthy and he does a lot of great things with recipe development."
Scratch Catering offers meal options in the form of a build-your-own catering menu, Ted said. "One of the things we pride ourselves on is we want to step outside the box. We don't want to just do the same stuff everybody does."
From its Texas reuben sandwich (which nixes sauerkraut for rye bread, sautéed onions, jalapenos and a spicy Russian dressing) offered at Southlake Oktoberfest, to "Tex-Asian" catering (featuring baby back ribs coated in a sweet Asian sticky sauce, brisket-fried rice and brisket, jalapeno and avocado egg rolls), Scratch Catering serves up innovation.
And development has marked Scratch Catering since it opened. When the business debuted, the Bilskys offered takeout food from their Southlake location. Due to increasing demand for their catering service they no longer offer the takeout option.
However, Ted says, "We have such a great following of clients that we just tell them if you call me before 10 o'clock in the morning and whatever we're catering for the day you can come pick up later in the day for dinner."